How To Choose Fencing And Decking
Posted by:
Administrator
Tags:
Fencing
Posted date:
19-07-2022
Choosing wood for Fencing & Decking
Choosing the most suitable wood for installing fencing or decking in your garden, backyard, or outdoor space can be challenging. You'll likely desire a cost-effective material for your budget, durable, long-lasting, and appealing for your household or property building theme.

Pressure-Treated Wood:
Various new decks and fences in the market are skillfully constructed using pressure-tested lumber; this is because it is known as one of the most affordable lumber styles available. However, the pressure-treating method isn't entirely water or moisture-resistant.
On occasion, you may have to apply a top-quality water repellent to your framework or decking every year. Doing so will allow you to protect the real timber from moisture and damage successfully. You may come across specific pressure-treated timber brands designed to perfectly fit the outdoors more than other landscape areas.
Many have a fantastic preservative system, using primary ingredients like copper to assist them in producing naturally occurring minerals. Copper is often used as a fungicide, which is why it's suitable for fences and decks, warding off algae, fungus and various other harmful or unappealing growths and wood-eating insects and species.
Some manufacturers are known to add compounds like quat to their timber to enhance the wood's performance against these elements, pets or plants.

Red Cedar Wood:
Red cedar wood is a type of timber that harnesses plenty of natural preservatives, making it highly resistant to rotting and pests infestation like insects, etc. It's an appealing colour, grain and texture, so many customers opt for it.
The material's curb appeal makes it an excellent option for those searching for decks and fences. Cedar is far more lightweight than any pressure-treated lumber, which allows it to be far more straightforward for builders to work with. It can often be less expensive than pressure-treated materials.
Before you purchase the fencing or decking, you must know it does require some more maintenance for upkeep. You must wash the decking or fencing at least once yearly using water and a gentle detergent. When dealing with a cedar fence or deck, you must never use a pressure washer, as too much water pressure can cause it to get damaged, as it is still a type of softwood.
Regularly maintained fences and deck boards of pressure-treated wood will often last approximately 4 years. The important thing is you must annually wash Pressure-treated cedarwood with a detergent to rid the structure of any mould, moss, dirt and algae that could've grown on it.
When your structure or frame has thoroughly dried, you should aim to apply a high-quality sealant to help prevent splintering and discolouration due to too much moisture. Sealant is useful for those painting their fences after they are installed, as that way, the moisture from the paint cannot warp your wood.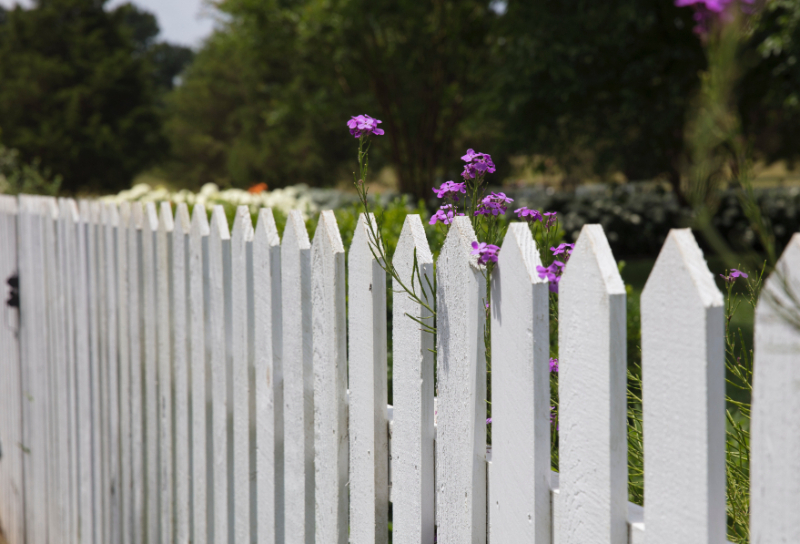 Different Types of Decking
Timber Decking
Timber decking is a crucial aspect of your existing living space; it has been popularised across the home in outdoors, for entertainment, and even in the kitchen. By utilising it as an extension of your household, you can provide your young family, friends and guests with an adequate, stylish location to relax in the summertime during small gatherings and garden parties.
company_name} offers a host of competent, experienced specialists that know their way around the installation, maintenance and deck designs. Various other landscapers like us will be sure to discuss the project in detail with you before carrying out the installation process.
Our responsibility is to ensure you understand our decking materials and plans, keeping them in alignment with all your specific desires. Timber decking can involve hardwood and softwood decking; however, it is up to professionals to tailor the materials and designs to your unique styles, budget costs and needs. If poorly maintained, timber decks can crack and fade over time.
There are a variety of timbers available to most people across the local area, including Spotted Gum, Merbau, Teak, Pine, and many more. The staff and fencers at Isle Landscapers Limited are deeply committed to offering a fantastic timber decking construction service across Maidstone and Kent.

Composite Decking
Composite decking is perceived as the best wooden decking alternative on the UK market, and over time it has grown more rapidly in popularity with homeowners and buyers. Composites are often made of wood fibres, recycled plastics and various bonding agents, making them 100% recyclable materials and highly eco-friendly.
Compared to a metal railing, its natural wood-like appearance and low level of maintenance make composite boards and panels a significant favourite for many commercial and residential customers. It's worth checking the level of maintenance before buying to ensure your budget can keep up with the materials requirements.
At Isle Landscapers Limited, we deeply understand that composite fences are some of the most popular, meaning our builders and installers are most familiar with their many designs, styles and all vital installing and maintaining methods.
Those who require further information on the required maintenance of your composite fencing don't hesitate to contact us or your local landscapers and fencers. Professionals will provide as much advice as possible on extending the lifespan and looking after your fences.
Composites can also be used for flooring materials and decking, and it is relatively low maintenance, making them a fantastic option for those with a smaller budget.
Isle Landscapers Limited has high-quality, talented deck builders who can build a custom-designed floor that matches your existing fencing style or current tastes. It allows customers to have more essential groundwork options than concrete in their outdoor spaces.
Many landscapers across your local area that provide fencing and decking services tend to value customers' opinions, so ensure you contact them early to discuss your requirements and practical solutions. We want to ensure your project is uniquely tailored to your household or property. Our company stocks a broad range of composite styles suitable for residential and commercial requirements.

Types of wooden fencing
Often when landscapers are called upon to replace or install fences, homeowners may have existing panel fences that are ridiculously beyond repair. Your wooden fences could be subject to wood rot or slats severely broken from being exposed to the elements.
Here are some of the most popular wooden fencing options to select from that Isle Landscapers Limited and many local landscapers can install for you:

Feather edge is one of the most popular gardens fencing and posts types that you can find in the UK market that our professionals can install for customers. Isle Landscapers Limited staff can install high-quality feather edge timber fencing for those homeowners and business landscapes throughout Maidstone and Kent.
Whether you require a brand-new fence for your garden or a secure replacement for one that's reluctantly blown over in the harsh weather, we'll be there to assist and do an excellent job. Feather edge cladding tends to overlap less than 150mm; the ideal is often seen as 40mm.
Another form of timber fencing available is a fence type commonly referred to by those in the industry as "Hit and Miss."
Compared to feather edge fencing, hit and miss fences often have wooden slats skillfully placed on either side of your rail, giving them a slightly different design. You can use the wooden slat as an accent to add further definition to your garden or backyard with a differing colour to the rest of the fence.
Many homeowners may be unaware of plenty of fences in the landscaping industry; one of the types they may not know about is composite fencing. Composite fencing has become a far more popular option for many households as it has been shoved more into the limelight.
Customers find themselves attracted to the vast collection of colours from various manufacturers in the field. Composite fencing can come in a wide range of styles, for example, slats that imitate wooden materials to panel fencing.
If you are in dire need of a new type of fencing that is entirely focused on quality and can provide a stylish but extremely durable fence to protect your home in the long run, we highly recommend hardwood fences.
Many homeowners like to have gates built using hardwood materials due to their incredible durability. Home or property owners require a reasonable amount of material strength to offer privacy and security from unwanted visitors or potential trespassers in private areas.
For those will relatively low budgets, you may be searching for a more affordable fencing type; if this is the case, we highly recommend panel fencing. Its low yet competitive prices come from how quickly the fencing can be built and assembled into place in your garden.
We have an incredibly skilled and professional team of workers with the right tools and equipment that can efficiently and quickly measure and build your panel decking and fences to suit all of your requirements.
The decking panels we supply are incredibly impressive when surrounding the panel decking; we have a range of elegant and stylish designs to offer customers, including boundary cross designs, crosshatches, and sunburst decking. Our fantastic builders and installers will ensure that panels are identical on both sides to be enjoyed by you, guests and bypassers on the street.
How To Choose Fencing & Decking
There are many ways of adding a completely new look to your garden. Perhaps one of the quickest ways is getting new fencing or decking installed. Either one of these materials can quickly add a lot of style to your garden and bring it back to life; you can opt for both to optimise your backyard and provide a more dynamic appearance.
There are a lot of different designs of fencing to choose from. Choosing the right one for your garden depends on you. It is also best to check the style with your neighbours to make sure they are happy with the design that you have chosen.
They will have to look at it as well, and you don't want to upset them, especially if you have just moved in. Decking is another great way to add style to your garden. You can have professionals create a raised area for BBQing and entertaining friends and family or just a small space for you to relax and unwind.
Your professionals can build decking in any shape and size you like; it can work with other garden areas and make your space even more special. Fencing and decking have significant uses in your garden.
They can make your space look bigger and brighter and be used as boundaries to your neighbours and other areas of your gardens. They are both a great way of improving your garden and give you a great base to work from when making improvements to the rest of your garden.
---
Are you looking for landscapers in Maidstone and Kent? We recommend visiting the following pages on our landscaping services website: