Making Your Garden More Interesting
Posted by:
Admin
Tags:
Posted date:
17-08-2021
Are you considering how to make your garden more interesting? We look at ideas for transforming your garden using trees, paving and other ideas.
Ideas for Transforming Your Garden
If you feel that your garden needs a bit of a lift, something to cheer it up and make it a beautiful outdoor space to relax in, we have a few tips and garden ideas for you. Whether you think some light garden landscaping, new overall design, or complete overhaul is in order, we have some ideas for you to consider.
We will take you through some examples of additions you might make to your garden or outdoor space, such as garden furniture, paving, plants, lights, borders decking and beyond. Hopefully, you will get more of an idea of what you want for your garden and pick up some useful advice along the way. Who knows, you may even be able to raise the value of your home too.

Make Use of Trees
The ecological benefits of small trees are also worth mentioning. They give birds a place to nest and filter any noxious fumes or noise from nearby roads from your garden. Providing pollen for bees and other insects is also a crucial environmental benefit of planting trees in your garden.
Add Beautiful Paving
Paving and the various ways you can design it allow you to create an overall low-maintenance vision for your garden. For example, randomly arranged grey or white paving stones in gravel would give your garden a French feel, while black or silver stones may create a more sleek and modern feel. Conversely, you can always opt for regularly arranged sand or golden coloured stones to create a more English country house aesthetic.

Distinct Levels
If your garden has multiple levels and you don't like the idea of creating stone steps, you might consider sloping grass to help the movement flow through your garden. However, the flow of space in your garden should end somewhere useful, such as a patio or decking area. If your garden is uneven, with slopes and falls, decking is a cost-effective and practical way to level it out. The decking itself can have split levels, with stairs leading up to a useable garden space. Regarding garden ideas for your decking, they offer the perfect place for garden furniture where you can entertain guests.

Utilise Furniture
If your garden or yard has small space for improvement, folding furniture and garden benches that can be stowed away under dining tables are your best choice. This allows you to maximise the space you have while also keeping it free of clutter. L-shaped garden sofas are also an excellent and surprisingly space-saving furniture option. Larger garden spaces, such as lawns or decking areas, have the capacity to hold larger furniture sets. This can include a garden table and chairs, day beds or even swing seats. These are all decorative and practical options if you have the space to accommodate them.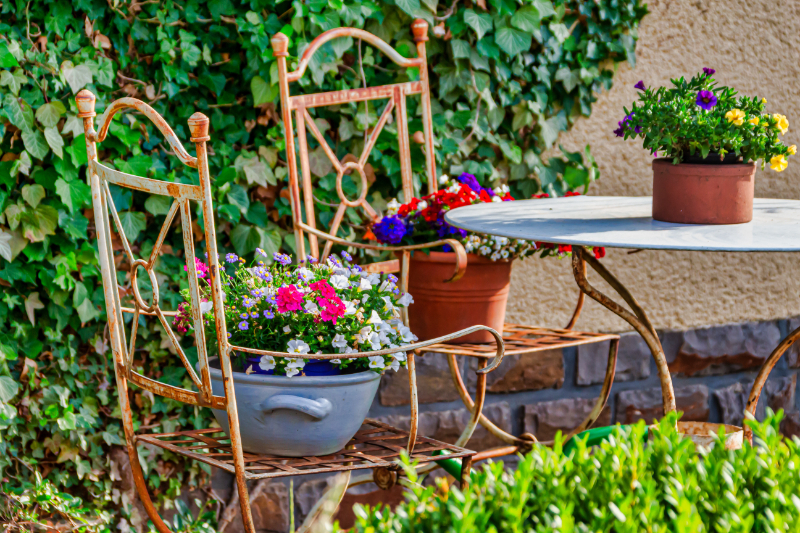 Ensure Boundaries Look Good
Creative garden ideas for your boundaries or fences are a more crucial consideration for smaller gardens. While your garden's boundaries do not need to look the same, there should be an element of continuity between them. If you choose to have the same fencing all around your garden, try growing vertical climbers with coordinated colours around them. You could also decorate them with cladding, paint or trellis.

Plant and Divide
A low-cost method of filling your flowerbeds with beautiful looking plants is to purchase perennials that you can divide and replant. This may sound like advanced, technical gardening, but it is a simple process that anyone can do. The best perennials for the job are those that form into clumps, such as geums, geraniums and astrantia. To divide and replant the perennials, take the plant from its pot and divide the clump into smaller clumps. Each of these should have some stalks and roots with it. After this, replant the new, smaller clumps into your flowerbed. After these clumps have grown out, repeat the process until your flowerbed is full.

Shape your Lawn
Cutting your lawn into a different and self-contained shape is one of the easiest and cheapest ways to transform your garden's look. Abstract shapes such as circles or squares are common and easy designs to create. Marking the shape out with string and using a spade to dig out the patterning will help. You could easily pull this off in an afternoon.

Add Containers to Patios
If you don't have a lawn in your garden, this isn't a problem. Setting up some window boxes, plant pots, or containers is a great way to get your garden blooming with gorgeous flowers or herbs. Containers are handy for patios, decking, balconies or paved yards. However, containers limit root growth, so you will need to ensure a steady water supply and sufficient drainage within the container to keep the plants alive.

Paint a Fence
Even a quick and easy lick of paint can completely transform your garden space. Black is the most recommended colour for garden fences. While this may sound a little dark, it gives you the perfect backdrop to show off the eye-catching colours of your plants and flowers. It will almost be as if the fence has disappeared, creating focal points throughout the space.

Upcycle Old Furniture
Another cheap and easy upgrade for your garden is upcycling your old furniture. If you are tired of having something in your home or has outlived its usefulness, placing it into your garden can give it a new lease of life. Old sinks can become quirky containers, and old furniture can add a rustic quality to your outdoor spaces.

Hanging Baskets
Hanging baskets are a quick and budget-friendly way to add colour to your garden quickly. They are easy to plant, and picking flowers such as petunias or fuchsias can add dramatic splashes of colour to dull areas. You could also consider planting vegetables, such as tomatoes. .
Outdoor Lights
Outdoor lighting can cheaply create a warming glow in your outdoor spaces, such as decking or patios. There are many different styles of outdoor lighting to choose from, each with its own aesthetic benefits. You might consider either solar-powered lanterns or fairy lights for a cosy garden hangout.

Install a Pond
Installing a pond is another great option if you want to attract more wildlife into your garden. They are also easy to construct. Dig a hole into your garden, fit it with a pond liner from one of your local garden centres, decorate the edge with some good quality pebbles and stones, fill it with water, and there you have it, a perfect garden pond.

Use height
Just as we use walls in our homes for decoration, you can do the same out in your garden too. Fences, sheds and garage walls are all perfect places for creeping plants to grow and decorate. Species such as star jasmine are a popular choice.

Compartmentalise
Creating secret hideaways and private spaces within your garden is an excellent design idea, ensuring that you can enjoy your garden or outdoor spaces away from prying eyes all year round. Sectioning your garden with fencing or large foliage is the best way to do this.

Pave Diagonally
Laying your paving slabs in a straight line can make your garden look smaller than it really is. With a simple visual illusion, laying your slabs point-to-point in a diagonal pattern can give your garden a larger appearance.

Keep it Bright
Plants that are brightly coloured are always a safe bet, creating a garden to feel bigger and lighter. Golden or yellow coloured flowers are the best way to brighten your garden, with species such as Rudbeckia hirta being a popular choice.

Attract Wildlife
Besides ponds and trees, building bird boxes, feeding stations or hotels for birds, insects, and amphibians are other ways to attract nature into your garden. Even if your garden is only small, there is room enough for wildlife to find a place. You might also consider planting insect-friendly wildflowers, which will attract butterflies and help keep bee populations healthy.

Add Water Features
Creating focal points or areas of movement and sound in your garden can really bring them to life. One of the best ways to do this is to install a water feature in your outdoor spaces. Even the smallest gardens can accommodate a water feature, especially if it has its own reservoir and pump.

Create Privacy
If you are worried about nosy neighbours spying in on your garden and what you do there, don't worry, there is something you can do. Creating decorative arches or pergolas will help you keep your garden private, allowing you to install secret seating areas to relax in truly.

---
Are you looking for landscapers in Maidstone and Kent? We recommend visiting the following pages on our landscaping services website:
---